Alpinestars Tech 1-zx Glove (2017 Model)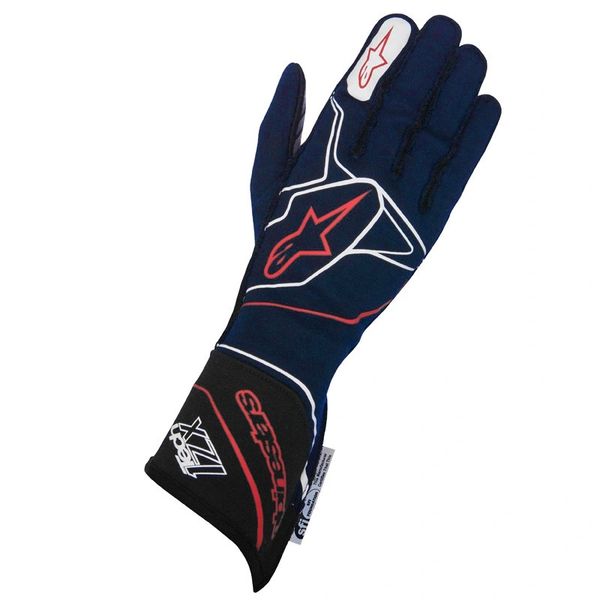 Alpinestars Tech 1-zx Glove (2017 Model)
Description
From the F1 circuit, straight into your personal cockpit! Alpinestars' premier racing glove, the Tech 1-ZX features a 20% reduction in weight over previous years' styles. The thinner construction is acheived through a combination of new materials and a unique new layer bonding technique to maintain high levels of dexterity, comfort and durability. An updated silicone print on the palm of the gloves works with the pre-curved natured of the glove for improved grip and feel. On the flip side, the interior lining of the glove is treated with a latex-sprayed grip zone to maximize steering feel and greatly reduce movement between the palm and glove. Combined with the external seams, and thinner seams in the wrist, this design helps prevent excessive pressure points while driving. 6 vibrant color combinations offer a wide variety of bold looks, with new heat-transfer logos and graphics to further reduce weight and increase overall durability. With a longer palm over previous Alpinestars gloves, the Tech 1-Z is finished with a tapered wrist cuff and an elasticated wrist for a tight and secure fit.
<!-- <div class="box-collateral box-tags"> <h2>Product Tags</h2> <form id="addTagForm" action="http://www.ogracing.com/tag/index/save/product/20967/uenc/aHR0cDovL3d3dy5vZ3JhY2luZy5jb20vYWxwaW5lc3RhcnMtdGVjaC0xLXp4LXJhY2luZy1nbG92ZXMtMTA3/" method="get"> <div class="form-add"> <label for="productTagName">Add Your Tags:</label> <div class="input-box"> <input type="text" class="input-text required-entry" name="productTagName" id="productTagName" /> </div> <button type="button" title="Add Tags" class="button" onclick="submitTagForm()"> <span> <span>Add Tags</span> </span> </button> </div> </form> <p class="note">Use spaces to separate tags. Use single quotes (') for phrases.</p> <script type="text/javascript"> //<![CDATA[ var addTagFormJs = new VarienForm('addTagForm'); function submitTagForm(){ if(addTagFormJs.validator.validate()) { addTagFormJs.form.submit(); } } //]]> </script> </div> --><!-- <div class="box-collateral box-description"> <h2 class="district2">Description</h2> <div class="std"> From the F1 circuit, straight into your personal cockpit! Alpinestars' premier racing glove, the Tech 1-ZX features a 20% reduction in weight over previous years' styles. The thinner construction is acheived through a combination of new materials and a unique new layer bonding technique to maintain high levels of dexterity, comfort and durability. An updated silicone print on the palm of the gloves works with the pre-curved natured of the glove for improved grip and feel. On the flip side, the interior lining of the glove is treated with a latex-sprayed grip zone to maximize steering feel and greatly reduce movement between the palm and glove. Combined with the external seams, and thinner seams in the wrist, this design helps prevent excessive pressure points while driving. 6 vibrant color combinations offer a wide variety of bold looks, with new heat-transfer logos and graphics to further reduce weight and increase overall durability. With a longer palm over previous Alpinestars gloves, the Tech 1-Z is finished with a tapered wrist cuff and an elasticated wrist for a tight and secure fit. </div> </div> -->
Technical Information
| | |
| --- | --- |
| Rating: | FIA 8856-2000, SFI 3.3/5 |
| Part Number: | AL3550317 SIZE COLOR |
| Manufacturer: | 355 0317 xx |
Sizing


To find your size, measure around the largest part of the hand at the knuckles, excluding the thumb, while making a fist.