Arai GP-6 Ped SA2015 Helmet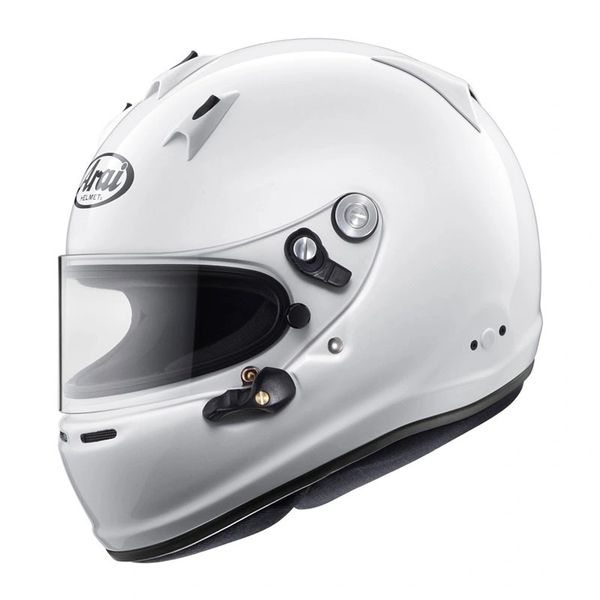 Arai GP-6 Ped SA2015 Helmet
The visually striking Arai GP-6 (PED) sets the standard for competition auto-racing helmets. Combining Arai's proprietary, PBcLc (Peripherally Belted Complex Laminate) shell construction with a wider eyeport for improved visibility and all new ventilation, the GP-6 PED shares the same shell shape as the F-1-grid's GP-6RC helmet. The all new shell is stronger and more flexible then the outgoing GP-5 model, allowing for a softer, more comfortable EPS inner liner. Finally, the huge 10mm vent holes allow for unsurpassed ventilation.
Technical Information
| | |
| --- | --- |
| Rating: | SA2015, FIA 8859-2015 |
| Hans Anchors: | Not Included, Pre-Drilled & Threaded |
| Weight (MED Size): | 3.65 lbs |
| Shield Style: | GP-6 Shield |
| Part Number: | ARGP6P15 SIZE COLOR |
| Manufacturer: | 6P-x-x |

• Simple to use positive shield lock mechanism
• Improved shield pivot hardware aerodynamics and Type-6, 3mm shield
• Wider eye-port for increased peripheral field of view
• Large, closeable front and rear intake vents with 10mm holes for increased air intake
• Sculped chin bar and ridge along lower edge of shell to improve structural integrity
• Raised shell above the shoulders for added clearance
Sizing


An effective helmet is one that fits properly. Have an assistant use a measuring tape, or a piece of string to measure the circumference of your head starting at a point approximately one inch above the eyebrows in front, around a point in the back of the head that results in the largest possible measurement, and finally wrapping back to the front. It is a good idea to take several measurements to make sure you have the largest one.