Bell GP.3 Carbon Fiber SA2015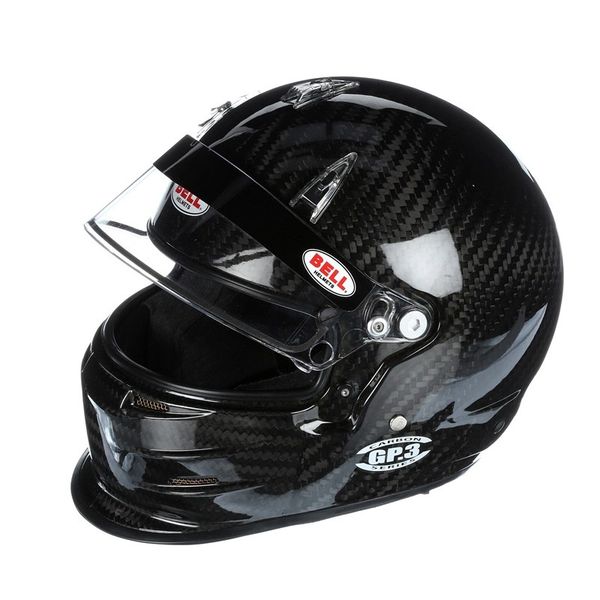 Bell GP.3 Carbon Fiber SA2015
Description
Limited Availability. Place selection in Shopping Cart to check stock. Pre-Order yours today!
Bell's GP.3 Carbon Helmet combines iconic F1 styling with a versatile air intake system and an ultra-lightweight carbon-fiber shell. With leading-edge aerodynamic performance, the GP.3 is perfect for open-wheel, formula racers and karters who are looking for that extra edge. An excellent combination of professional performance and comfort, the GP.3 Carbon provides maximum ventilation through direct flow chin-bar vents and manually adjusted upper intake vents. Improved shield integration is combined with rubber gasket seals and Dual-Screen Anti-Fog (DSAF) visors for clear vision regardless of the racing conditions.
Technical Information
| | |
| --- | --- |
| Rating: | Snell SA2015 |
| Hans Anchors: | Pre-Drilled & Threaded |
| Weight (MED Size): | n/a |
| Shield Style: | DSAF SE03 (3mm) |
| Part Number: | BEGP3C15 SIZE COLOR |
| Manufacturer: | 2152102, 2152103, 2152104, 2152105, 2152106, 2152107, 2152108 |

• Ultra-Lightweight Carbon Shell
• High-Pressure Molding System for Improved Shell Strength
• Superior Ventilation System Includes Direct Flow Chin Bar Vents and Manual Level Air Intake Vents
• Front Chin Bar Gurney (Duckbill) for Improved Aerodynamic Performance
• Hollow Synthetic Rubber Gasket Seal Ensuring that Air, Water and Dirt Can't Penetrate into the Helmet
• Multi-Piece, Multi-Density High-Impact Custom Bead Absorbing Liner for Low and High Velocity Impact Protection
• Aerodynamic Accessories Available including Chin Bar and Top Gurneys and Rear Spoiler (Sold Separately) for Improved Aero Performance and Stability at High Speeds
• Integrated Channels in the Face Piece Offer Multiple Options to Install Integrated Drinking Tube Systems and Radio Microphone Systems
• Ultra Plush Grey Comfort-Max FR Interior Fabric for Improved Comfort and Superior Moisture Wicking Properties
• Pro-Style, Multi Foam Density Interior with Contoured Cheek Pads for Professional Fit
• Standard Size Eyeport
Sizing
7-5/8 Plus is equivalent to a 7-3/4 hat size and ideal for heads that measure slightly larger then 62 cm.

An effective helmet is one that fits properly. Have an assistant use a measuring tape, or a piece of string to measure the circumference of your head starting at a point approximately one inch above the eyebrows in front, around a point in the back of the head that results in the largest possible measurement, and finally wrapping back to the front. It is a good idea to take several measurements to make sure you have the largest one.