Bell RS7 Carbon Fiber SA2015 Helmet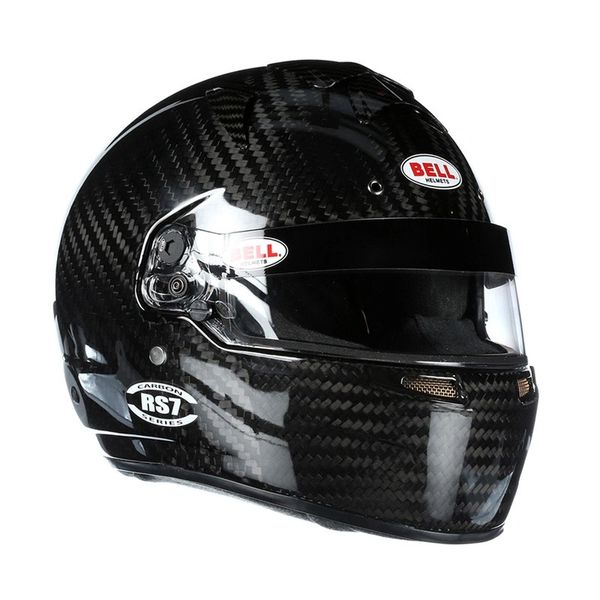 Bell RS7 Carbon Fiber SA2015 Helmet
The aggressive Bell RS7 Carbon-Fiber Racing Helmet features an ultra-lightweight carbon shell that uses the same high-pressure proprietary molding system featured on the pro-level Bell HP7 helmet. The unique shell design works with the SE07 shield to help improve acoustic comfort and aerodynamic performance without sacrificing energy absorption capacities. The advanced ventilation system features 14 air intake and extraction channels. Designed to work seamlessly with Bell's chin bar, top gurney and rear spoiler kits (available separately) for stability at higher speeds.
Technical Information
| | |
| --- | --- |
| Rating: | Snell SA2015 |
| Hans Anchors: | Pre-Drilled & Threaded |
| Weight (MED Size): | n/a |
| Shield Style: | SE07 (3mm) |
| Part Number: | BERS7C15 SIZE COLOR |
| Manufacturer: | 2152033, 2152034, 2152035, 2152036, 2152037, 2152038 |

• Based on the Innovative HP7
• Ultra-Lightweight, Carbon Shell
• High-Pressure Molding System for Improved Shell Strength
• Advanced Ventilation System with 14 Intake and Extraction Channels with Air Intake Covers
• Available in Ear Cup Configuration to Reduce Ambient Noise
• Hollow Synthetic Rubber Gasket Seal Ensuring that Air and Water Can't Penetrate into the Helmet
• Multi-Piece, Multi-Density High-Impact Custom Bead Absorbing Liner for Low and High Velocity Impact Protection
• Adapted for Closed Car Forms of Racing with Top Forced Air Inserts to Improve Ventilation (Sold Separately)
• Integrated Channels in the Face Piece Offer Multiple Options to Install Integrated Drinking Tube Systems and Radio Microphone Systems
• Ultra Plush Grey Comfort-Max FR Interior Fabric for Improved Comfort and Superior Moisture Wicking Properties
• Narrow Size Eyeport
Sizing
7-5/8 Plus is equivalent to a 7-3/4 hat size and ideal for heads that measure slightly larger then 62 cm.

An effective helmet is one that fits properly. Have an assistant use a measuring tape, or a piece of string to measure the circumference of your head starting at a point approximately one inch above the eyebrows in front, around a point in the back of the head that results in the largest possible measurement, and finally wrapping back to the front. It is a good idea to take several measurements to make sure you have the largest one.