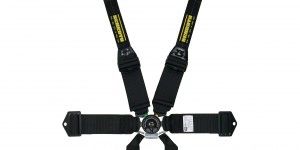 SFI 16.5 PROFI III-6
The Benchmark Harness by which all others are judged. The Profi III is available in different configurations to suit each driver's setup and preference. It features a T-bar sub strap setup where the two sub straps are attached to one bracket that connects to the cam-lock. This setup makes it easy to get into the belt once you cram yourself into the car.
Lap and Sub points bolt in, and the shoulders wrap. Call for end fitting options.